Self-guided Dryandra visit
Self Guide Dryandra Visit
After the Feral Cat Symposium we are encouraging attendees to see Dryandra Woodland National Park, and the species protected by effective feral cat control.
If you are interested in seeing some of WA's iconic species in a beautiful woodland surrounding then this self-guided field trip to Dryandra Woodland National Park is perfect for you!  From spotlighting at night, birdwatching,  going on walk trails or drive trails to search for numbats, or seeing other wildlife like chuditch, bush stone curlews, woylies and echidnas. 
We have arranged a special Barna Mia tour to see bilbies, woylies and boodies, with a guide who can tell you about the activities at Dryandra and at the surrounding private property. There are also several walk and drive trails with information about the park, it's wildlife and history.
Attendees will need to arrange their own accommodation – you can camp overnight or book a hut to yourself.
A private tour of the Barna Mia Wildlife Sanctuary is being made available, dependent on numbers. If you are planning to attend the Barna Mia Tour this please write your details on the list at the registration desk at the conference, no later than afternoon tea break Tues 14/2. 
Dryandra Woodland via, Tomingley Rd, Dryandra WA 6311 
170 kms Drive South-East of Central Perth
Camping, accommodation and picnic areas
There is a pay phone at the Lions Dryandra Woodland Village caretaker's office.

Mobile phone reception is limited. 
Bring your own food and drinks . Make sure to pack sufficient water.
Be aware of your surroundings. Carrying first aid is always handy!
Barna Mia Nocturnal Sanctuary
Take an unforgettable guided tour after dusk and learn about the natural, cultural, historical and forest industry aspects of the woodland followed by an exciting close-up encounter with the nocturnal animals. Using special red- filtered spotlights in one of the two 4ha enclosure, you will see marsupials such as bilby, boodie, mala, woylie, quenda and possum.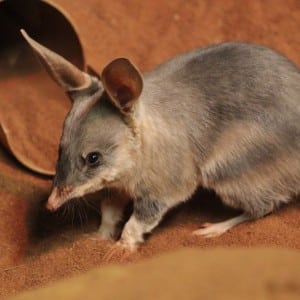 Drive slowly, about 10-20km/h

Look for movement on the ground as numbats forage for termites

Look for animals sitting at the entrance to hollow logs

Numbats prefer temperatures above 16 and below 30, and will be most active then

Tracks are gravel, but are suitable for 2WD vehicles. Drive to conditions.