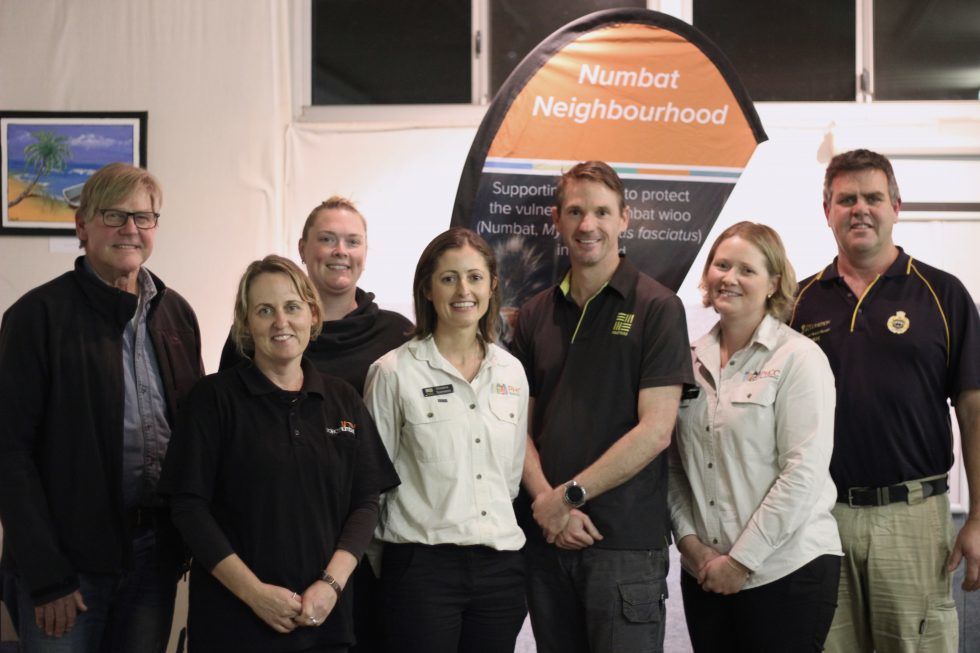 A Numbats in the Boddington Neighbourhood event was held in Boddington on the 22nd of July, with 45 attendees hearing from a range of guest speakers informing the community about the discovery of a numbat near Boddington.
The first guest speaker was Dr Tony Friend who has been working with numbats since 1981. Tony spoke about numbat biology, population distribution past and present, their threats and that the numbat captured on the monitoring camera has most likely dispersed from Dryandra Woodland. Paul Bullock (South32 Worsley Alumina) gave an overview of how the numbat was discovered and what South32 Worare doing to protect it including monitoring, protecting habitat and feral animal control.
PHCC's Farmers for Fauna Coordinator Christine Townsend spoke about the Numbat Neighbourhood Project and how with seeing this numbat she can now work with the Boddington Community to support landholders with feral animal control and raise awareness through this workshop and a Numbat Incursion with the Boddington District High School. Dr Judy Dunlop, the inaugural Executive Officer for the WA Feral Cat Working Group, discussed the impacts that cats have on threatened species, including the fact that 27 of the 34 mammal extinctions in Australia are linked to predation by feral cats. Judy also discussed the methods for controlling feral cats including new technology like the Felixer. Josh Potts the Shire of Boddington Ranger discussed the additional work he's been doing to control feral cats around Boddington after the sighting of the numbat. He also discussed how cat owners need to have their cats sterilised, microchipped and registered. 
Project Numbats Education Officer Jo Drew also attended the event and was kind enough to join the panel for questions from the attendees. Jo discussed Project Numbat's education program and the other important work Project Numbat does raising numbat awareness. Jo directed the attendees to the Project Numbat website on information about how to become a member, buy merchandise and hear about upcoming events.
Thank you to our guest speakers and to the community of Boddington for supporting this event.  A visit to the Boddington District High School is being planned to inform the next generation of conservationists on how they can help to protect numbats by reducing threats, including keeping pet cats inside, protecting habitat and raising awareness of numbats and other threatened species.
This project is supported by the Peel-Harvey Catchment Council through funding from the Australian Government's National Landcare Program