Since their introduction to Australia in the 1880's feral cats have been hunted for meat by Aboriginal people. Once a widespread occurrence, traditional hunting of feral cats now only occurs regularly in the Nyirripi and Kiwirrkurra communities. Amongst Kiwirrkurra people cat meat is regarded as highly desirable, and is recognised as a good medicine. In many communities cat hunters are admired for their skill.
Traditional hunting practices require a great deal of knowledge and skill to know where to find cats, how they behave and how to track them. Skilled hunters can identify cat tracks and judge how fresh the tracks are. They will only follow tracks that are minutes up to a few hours old. When following the tracks hunters will pursue the cat on foot at a steady pace until changes in the tracks indicate that they are close. They will then move quietly using only hand signals and whistles to communicate. If the cat runs then they will chase the cat until it takes refuge in vegetation, a burrow or up a tree. If the cat tracks are lost in dense vegetation, fire can be used to flush the cat out. Once caught, cats are euthanased by blunt force trauma. On average a hunt will last around an hour and a team of 4 hunters can remove up to 4 cats in a day. 
In Kiwikurra, where traditional cat hunts regularly occur, the greater bilby and greater desert skink have been found close to the community. Both of these species are threatened and are rare in this region, highlighting the potential for traditional hunting to benefit native wildlife.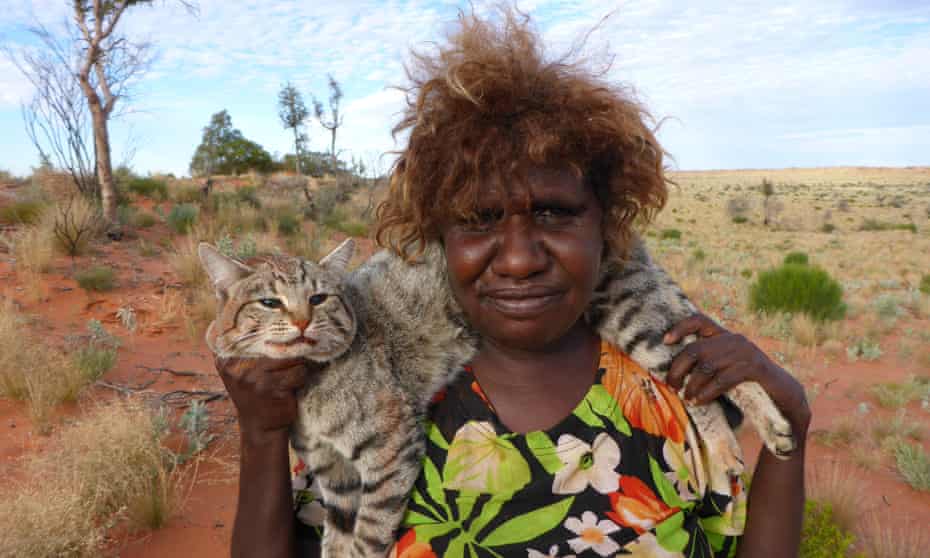 Very target specific

Low environmental impact

Associated with cultural activities on Country

Faster and more efficient than spotlight hunting with firearms. 

Can target problem cats that are known to be preying on native animals
Only targets a small area of particular interest and isn't applicable at a larger scale

Works best in sandy areas with sparse vegetation as need to be able to see tracks in the dirt
Indigenous traditional owners with knowledge of traditional hunting practices
 Outside of DBCA managed lands, land owner/occupier permission is required to undertake traditional hunting practices, unless native title rights apply. 
Indigenous hunting practises are best suited for protecting specific populations of threatened or culturally important species. Indigenous hunting is  a great option for removing known problem cats from an area, such as within an exclusion fence or at times when native species are particularly vulnerable, such as after a wildfire or during a breeding event.
Image credits on this page
Kate Crossing, Judy Dunlop