What do we know about cats and their impacts?
Global threat to biodiversity
Feral cats threaten Australia's unique and remarkable native wildlife by predation, competition for prey and habitat, and the spread of disease.
Cats prey on a massive array of mammals, birds, invertebrates, frogs and reptiles, particularly targeting animals from small lizards and mice, up to wallabies equalling their body mass. Cats are exceptionally adaptable to different environments and are found across the entirety of Australia, from alpine areas to arid deserts. The impacts of feral cats have been extensively quantified by conservationists.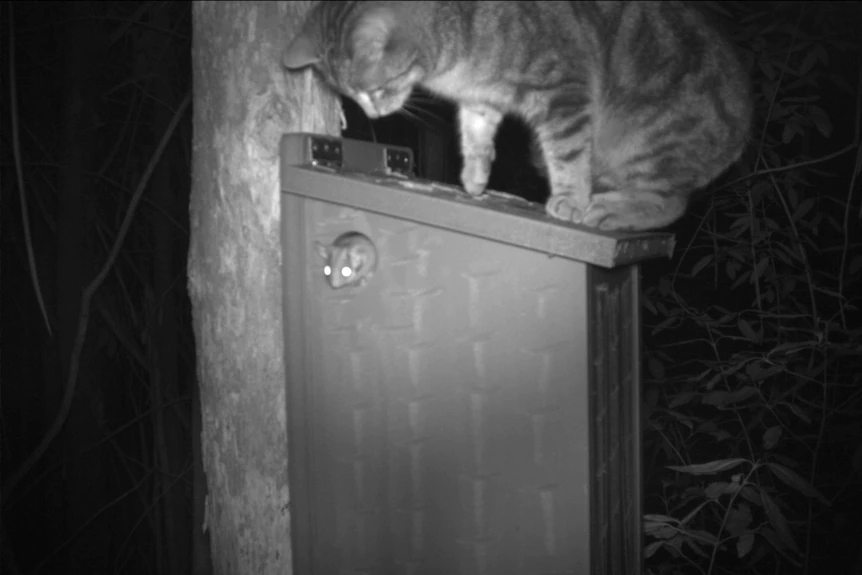 Impact on Australian wildlife
Cats were first introduced to Australia in 1788. By 1840 they had become feral and by 1890 they had spread across over 90% of the continent. Today feral cats are found right across the Australian mainland and on over off shore 100 islands.
Australia has 1.4 – 5.6 million feral cats, preying on 272 million birds, 466 million reptiles, 815 million mammals and 1.1 billion invertebrates every year.
Including feral, stray and pet cats there are over 3 billion animals killed by cats every year across the country.
One feral cat in the Australian bush can prey on 791 mammals, birds, reptiles and frogs/year and 371 invertebrates each year.
Since European settlement, feral cats have played a significant role in 27 of the 34 native mammal extinctions, 2 of the 9 native bird extinctions and all of the 3 reptile extinctions.
A further 75 critically endangered or near threatened mammals, 40 birds, 21 reptiles and 4 amphibians are currently threatened by feral cats in Australia.
Australian marsupials, such as the eastern barred bandicoot, are particularly vulnerable to toxoplasmosis, a disease spread by cats. Toxoplasmosis can infect any bird or mammal and can result in anorexia, lethargy, reduced coordination, apparent blindness, disorientation, breathing difficulties, jaundice, fever, abortion, and death.
Without adequate cat control, species such as the Central rock rat, Gilbert's potoroo, Western ground parrot, Nabarlek and Black-footed tree rat are projected to go extinct in the next 20 years.
Impacts on Western Australia's biodiversity
Western Australia is fortunate to have the remaining natural populations of many native species, including the numbat, banded hare-wallaby , golden-backed tree-rat and mala. This makes protecting our native wildlife from feral cats even more pertinent. 
In Western Australia:
Impacts of cat-dependent disease on agriculture and human health
Cat-dependent diseases are those that rely on cats for at least part of their life-cycle and would not exist in Australia if cats had not been introduced. The main cat-dependent diseases in Australia are Toxoplasmosis, Sarcocytosis, and cat ringworm. Together they cost the Australian economy over  $6 billion annually.
Impact on Australian Agriculture:

Human health consequences:
Toxoplasmosis is common in humans, with between 23 and 66% of the Australians estimated to be infected.
Human infections range from asymptomatic, to mild flu-like symptoms, to severe, and result in hospitalisation. It is estimated that 8500 Australians are hospitalised and 550 die each year

from cat-dependent diseases.

Overall, cat-dependent diseases are estimated to cost the Australian economy $6 billion annually through medical and other direct costs and loss of income.
Feral cat bibliography
For more information about feral cats and their impacts, management and biology
Image credits on this page
Marika Maxwell/DBCA, Jeff Pinder, Brent Barret, Robert Mclean, Wayne Lawler